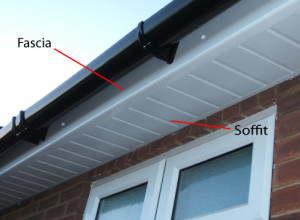 What is one thing all builders know that many homeowners don't? The purpose and function of soffit and fascia.
Soffit is the underside of the roof, sort of like the skin that covers your eaves — without it, rafter beams would be visible. Covering them with soffit gives the house a unified, tidy look and protects the rafters from the elements.
Fascia, the band that runs horizontally under the roof's edge, typically goes hand-in-hand with soffit, and United Building Supply offers fascia in two sizes and a wide variety of colors. We offer LP Smartside Soffit products, which are an efficient and economical alternative to MDO and plywood soffits. Soffit options are available in three of LP's product collections, each with a range of styles and profiles.
In addition, we have 35 colors of trim coil in stock to make sure builders have exactly what they need when they need to match aluminum trim with siding or windows. Our aluminum trim is made by Alsco Building Products, one of the industry's leading manufacturers.
Builders working with homeowners on a new home project or a remodel may find themselves explaining the purpose of soffit, fascia and trim, and helping their clients choose products that both provide the right function and complement the rest of the home's exterior.
To make that a little easier, here's a short cheat sheet to help explain some of the details.
Covered vs. uncovered soffit – If the existing soffit that is covered, a new one can simply be installed on top of it. If there has never been a covering on the soffit-hollow, however, then you will need to use a J-channel for support. In the event the previous soffit has been removed, you will again need to use the J-channel.
Leave room for expansion – It's necessary to leave room for expansion. In climates with extremely cold weather, leaving 5/16 of an inch at each end of the soffits is recommended. This way, when temperatures get extreme, the materials have ample room to adjust without bending the soffit.
Fascia – While fascia needs to be cut to the height of your rafter, there has to be enough overlap so it  can be wrapped around the underside of the rafter and rest on the soffit on the channel.
For all the building materials you need – windows, doors, siding, insulation, decking, and, of course, soffit, fascia and trim – depend on United Building Supply to provide quality products and excellent service.