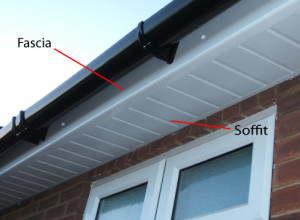 What is one thing all builders know that many homeowners don't? The purpose and function of soffit and fascia.
Soffit is the underside of the roof, sort of like the skin that covers your eaves — without it, rafter beams would be visible. Covering them with soffit gives the house a unified, tidy look and protects the rafters from the elements.
Fascia, the band that runs horizontally under the roof's edge, typically goes hand-in-hand with soffit, and United Building Supply offers fascia in two sizes and a wide variety of colors. We offer LP Smartside Soffit products, which are an efficient and economical alternative to MDO and plywood soffits. Soffit options are available in three of LP's product collections, each with a range of styles and profiles.
In addition, we have 35 colors of trim coil in stock to make sure builders have exactly what they need when they need to match aluminum trim with siding or windows. Our aluminum trim is made by Alsco Building Products, one of the industry's leading manufacturers.