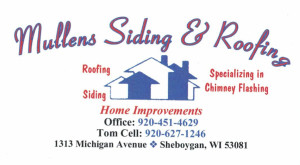 Tom Mullens took a long and winding road to where he is today. Like many in his business, he started learning his trade at the elbow of his father.
Mullens' dad owned a roofing and siding business in Florida, and they two worked together for many years. In 1987, Mullens opened his own business, but eventually put that business into hiatus and worked for another contractor for a few years.
in 2004, he started back up with Mullens Siding & Roofing and has never looked back. With four full-time employees and a stable of sub-contractors, Mullens is busy.
"It's still pretty busy now," he said. "Everybody's trying to get everything done before winter comes."
Most of his business is word of mouth — "I don't touch the computer" — but it works perfectly for him. Despite the name of the business, Mullens can do just about anything: flooring, remodels, basements, etc.
"You name it, we do it," he said.
He started working with United Building Supply both times he was in business for shingles and siding.
"I like how fast they take care of me," Mullens said. "They bring me stuff as I need it, they're just very good to work with. They're very reliable, they get (materials) to me in a timely fashion."
Mullens' son, Thomas, is one of the four full-timers on his roster and he'll be taking over the business when the patriarch decides to retire. That's coming, but not yet.
And in the meantime, as Thomas shifts to running more and more of the operation, the calls keep coming for new siding, now roofing and more.
"We're usually scheduled about two months behind," he said.