Home
> Soffit, Fascia & Trim Supplier Port Washington
Soffit, Fascia & Trim Supplier Port Washington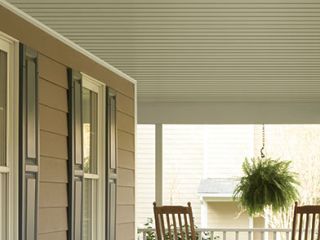 United Building Supply has been offering the Best Soffit, Fascia & Trim within the Port Washington area since 1963. Our company has worked to achieve the most impressive standards of product excellence and service in the city of Port Washington, Wisconsin. Please call us or utilize the quote form to get started.
View Our Online Soffit, Fascia & Trim Catalog
Call us at (920) 564-3888, or
Visit our showroom at:
1135 Superior Ave., Oostburg, WI 53070
The entire line of vinyl siding as well as add-ons soffit as well as fascia will synchronize flawlessly together with siding, trim as well as gutters. vinyl siding and add-ons soffit and fascia can be obtained to fit the needs on most homes and provides a low-maintenance solution for that overhang areas. soffit provides an attractive finish to the lower of eaves and is definitely an important solution to daily ventilation and tougher problems. From concealed vent soffit in order to classic vinyl or metal soffit, there are a number of alternatives to fit your requirements. soffit functions to reasonable temp extremes and manage moisture in attic areas. Overhangs on a home often trap heat and moisture which in turn causes paint to peel. vinyl siding and Accessories soffit provides a maintenance free solution to this problem. fascia is also an essential element of your roofing structure and soffits, and deciding how you can protect it is more important than simply deciding on what color to make use of. Today, soffit and fascia form an entire protection and beautification program, exceed all building signal requirements, save energy as well as coordinate roofs and siding. soffit and roof fascia systems can be found with a full selection of enamel coated, PVC coated color surface finishes
Soffit, Fascia & Trim Materials Port Washington
Interested in brand new soffit, fascia & trim but unsure where to turn? At United Building Supply, we're known as a company that's devoted to quality, service, and expert advice. We help out our customers by providing replacement soffit, fascia & trim of top of the line quality at good price. With choices ranging from classical types to some of the most contemporary and exclusive models, we offer a wide selection of soffit, fascia & trim types to complement your Port Washington surroundings and your budget.
Replacement Soffit, Fascia & Trim Port Washington
Take a look around and see for yourself! We're reputed as the most impressive soffit, fascia & trim replacement business in the Port Washington, Wisconsin area. Soffit, Fascia & Trim Replacement. Your associates will agree that we have a superb level of professionalism and Soffit, Fascia & Trim quality unmatched by any other Soffit, Fascia & Trim Supplier business. ReplacementSoffit, Fascia & Trim . Lets discuss, and we'll send you your free estimate today!
Port Washington Soffit, Fascia & Trim Supplier