Home
> Soffit, Fascia & Trim Supplier Oostburg
Soffit, Fascia & Trim Supplier Oostburg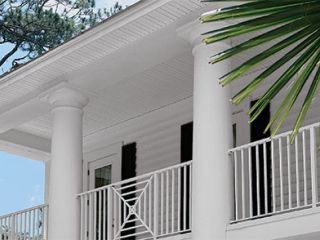 United Building Supply has been delivering superior Soffit, Fascia & Trim in and around the Oostburg area since 1963. Our company has worked to achieve highest standards of product quality and service in the city of Oostburg, Wisconsin. Feel free to contact us or fill out the quote form to get a free consultation.
View Our Online Soffit, Fascia & Trim Catalog
Call us at (920) 564-3888, or
Visit our showroom at:
1135 Superior Ave., Oostburg, WI 53070
The installation of Soffit and Fascia Vinyl soffit product has a different profile compared to siding, but installs based on all the same guidelines. The 1st step is to mount trim pieces. If there exists wood framing already in position for the soffit, make use of a piece of J-channel to keep the ends of the soffits down the house and down the short sides of the soffit. If there's no framing, use a trim piece called F-channel along the house. The soffit pieces slip into the trim and get nailed up in to the wood subfascia with short, small-headed trim nails. The end down the house sits loosely inside the F- or J-channel. If the soffit is bigger than 12 inches, it could be needed to install extra wood support parts down the center and nail the soffit panels into these, too, in order that they don't sag. After the soffit is mounted, you finish off the job by adding fascia to hide the outside border of the pieces and also to protect your wood subfascia. We often make use of aluminum fascia materials (although vinyl fascia CAN BE available). The top border of the fascia could be held in position with a piece of undersill trim, or it could be concealed behind a piece of drip-edge or some other roof-edge flashing. Frequently, you must trim the top of the fascia in order that it fits between your edge of the roof plus the soffit.
Soffit, Fascia & Trim Materials Oostburg
Are you in need of soffit, fascia & trim replacement but have no idea where to turn? At United Building Supply, we're recognized as a business that's devoted to quality, service, and customer satisfaction. We help out our customers by supplying replacement soffit, fascia & trim of top of the line quality at a modest price. Spanning from classical types to the most modern and unique models, we offer a wide selection of replacement Soffit, Fascia & Trim types to fit your Oostburg house and your budget.
Replacement Soffit, Fascia & Trim Oostburg
Take a look around! Our Replacement soffit, fascia & trim as the best soffit, fascia & trim installer company in the Oostburg, Wisconsin area. Soffit, Fascia & Trim Replacement. Your associates will tell you that we have a high level of professionalism and Soffit, Fascia & Trim quality unmatched by any other Soffit, Fascia & Trim Supplier business. ReplacementSoffit, Fascia & Trim . Just let us know that you're interested, and we'll make sure you get a free estimate today!
Oostburg Soffit, Fascia & Trim Supplier