The Foundry® Siding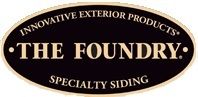 Born from nature, Designed for life
Cedar is treasured for its stunning curb appeal. However, real cedar requires meticulous and continual upkeep. Only The Foundry delivers a comprehensive, genuine selection of cedar profiles that offers outstanding curb appeal and maintenance-free living. The Foundry vinyl cedar siding is an exact portrait of cedar shake and shingle style, but it's both tougher than wood and fire-resistant. Unlike wood, it will never rot, warp, buckle or crack.
With the most shake and shingle profiles and the most extensive color spectrum, The Foundry provides the luxury of choice. From shingles with a subtle grain detail to staggered shakes with a bold rustic dimension, our textures help you create your desired look — beautifully, simply and maintenance free.
To meet today's environmental challenges, vinyl siding is engineered for sustainability. Benefits of vinyl siding include: low maintenance; increased product life; resistance to wind and water; color retention; and impervious to insect damage. Once vinyl is installed, homeowners will never have to apply environmentally harmful paints or stains.