Home
> Decking Supplier Oostburg
Decking Supplier Oostburg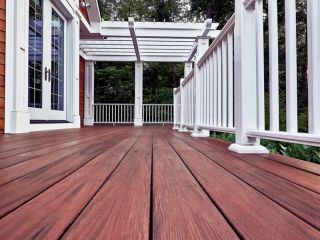 United Building Supply has been providing the Best Decking within the Oostburg area for years. Our company has worked to achieve optimum standards of product quality and service in the city of Oostburg, Wisconsin. Please call one of our decking experts or use the quote form to get started.
View Our Online Decking Catalog
Call us at (920) 564-3888, or
Visit our showroom at:
1135 Superior Ave., Oostburg, WI 53070
Composite decking represents a family-friendly, low-maintenance deck that endures all year round. With the composite decking, you get a smooth surface that isn't prone to splintering, so that it is safe for children's bare feet. Additionally, when it comes to clean-up your composite deck you're getting one of the most low-maintenance materials for outdoor living there is. And no yearly staining is required. Our composite decking is manufactured out of recycled materials, making it an environmentally responsible choice for you to take into account too. Examine our great selection of low-maintenance, high- performance composite decking and feel free to ask one of our helpful product specialists in case you have any questions.
Decking Materials Oostburg
In need of new decking but unsure what to do? At United Building Supply, we're known as a company that's dedicated to quality, support, and customer satisfaction. We help out our decking customers by providing replacement decking of top of the line quality at very competitive price. Ranging from traditional types to the most modern and exclusive models, we provide a wide selection of replacement Decking types to perfectly fit your Oostburg house and your budget.
Replacement Decking Oostburg
Just take a look around! We're known as the best company in the Oostburg, Wisconsin area. Decking Replacement. Your associates will tell you that we have a superb level of professionalism and quality unmatched by any other Decking Supplier business. ReplacementDecking. Simply let us know you're interested, and we'll make sure you get a free estimate today!
Oostburg Decking Supplier