Insulation helps keep your warm air inside during the winter and your cool air inside during the summer. The more air flow resistance your insulation provides, the lower your heating and cooling costs will be.
Glass Mineral Wool is the most popular and widely used insulation material, as it is the most cost-effective insulation available. Glasswool is eco-friendly as it's made from recycled glass bottles and it's easy to handle and install.
Rock Mineral Wool is more solid than Glasswool, so it is used more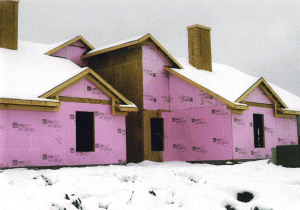 often in environments where it may be under pressure. Rockwool can also be considered a fire safety measure, as it does not burn easily so it can help slow down the spread of a fire.
Rigid Foam is also fire resistant and itis even stronger and more durable than rockwool. It also provides additional benefits such as acoustical insulation that minimizes sound travel through walls and floors.
Cellulose Insulation is a plant fiber that is actually among the oldest types of building materials. Modern cellulose insulation is made with recycled newspaper and cardboard, and by the end of the process the insulation is made fire retardant and bears no resemblance to the original paper.
Proper insulation should be installed not only in your walls, but throughout your house and in your roof and the floors as well. Most heat does escape through your walls and windows, however up to 25 percent of heat energy can escape through the roof, and 15 percent can escape through the floors.
The recommended minimum depth for insulation is 270mm or 27cm, however many homes' insulation does not meet the mark. To check your levels of insulation, you can push a ruler down the side of one of your roof joints.
If you're in need of housewrap, foam products or caulk and sealants for your home's installation, look no further than United Building Supply.