Outdoor living season is coming, and along with your deck or patio, potted geraniums and outdoor furniture, there is one thing that really makes or breaks your home's exterior look — the railings around the porch, deck, patio or pool.
No matter what look you want, Regal Ideas, one of the largest and most well-known aluminum railing brands in North America, has exactly what you're looking for.
Here are a few things you might not know about Regal railings:
Regal railing components and parts are made of 100 percent pure high strength aluminum with a premium UV powder coat finish and engineered with the homeowner's safety and satisfaction
The Regal Ideas aluminum railing systems are engineered to withstand the most severe weather and temperature conditions.
Regal railings are backed by a 20-year limited warranty.
The Regal aluminum railing system is the only system with patented locking pickets, which allows our system to be quickly installed without the use of bottom rail supports and fasteners.
Railing Ideas uses no VOC's (volatile organic compounds) in its paint process; products are UV resistant and resist fading and weather damage; there is no chipping, peeling or cracking of the paint finish. Ever.
Picket system
Regal's picket system is designed to look like traditional wood pickets, but without any of the drawbacks of old-fashioned fencing. Available in five colors — white, black, textured black, taupe and yard bronze — the picket system is made up of easy-to-install 3/4-inch pickets, with options for wide, narrow or decorative placement and post heights of 36, 42 or 60 inches.
Those options mean your railing is entirely customizable so you can have exactly the look you want to suit your home, your budget and the look you want to achieve.
Glass system
For a more contemporary look, the Regal Ideas glass system offers 6mm (1/4 inch) tempered glass panels in 21 different sizes from 6 inches to 66 inches wide. The glass, which complies with Miami-Dade, Florida, hurricane requirements for superior wind resistance, is available for 42 and 60-inch railing heigh requirements.
Railings for the glass system also come in five colors: white, black, textured black, taupe and yard bronze.
CrystalRail system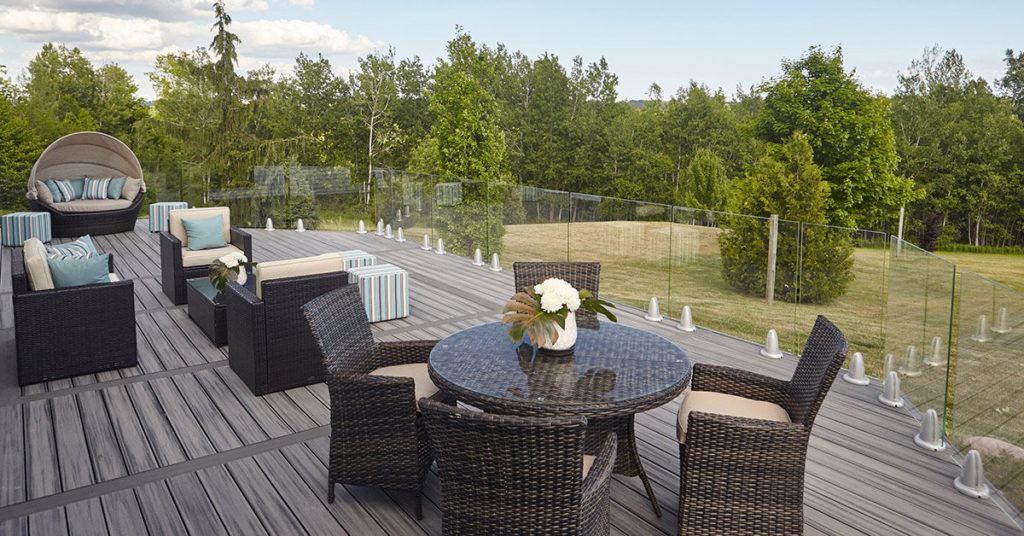 The new CrystalRail frameless system takes the contemporary look to another level by eliminating the need for railings. Regal Ideas' white "No-Iron" tempered glass panels are the obvious choice for homeowners who want an unobstructed view. The 10mm CrystalRail tempered glass panels are available in a variety of sizes.  Glass mounting brackets include pre-installed LED lighting.
There is no splicing of wires or direct hard wiring required, and a remote controls is included for plug-and-play lighting.  Each control pack can run up to 40 glass mounts (20 sections of glass).
United Building Supply is a stocking retailer, so we are listed on the Regal Ideas website. We have many of the Regal railing components in stock, including LED lighting kits.
Regal railing is the easiest system on the market to install. For both contractors and do-it-yourselfers, Regal railings are the perfect solution for finishing any deck, patio or pool.
And with United Building Supply, you can count on not only prompt availability of all the components you need for your project, but also the very best customer service out there.