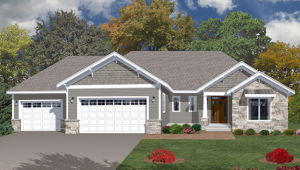 Homebuilding is in Mike Werner's blood. With 21 years in the homebuilding industry, including 15 with his family business and several more remodeling and flipping homes, Mike struck out on his own in 2013 and founded American Dream Builders. Mike is United Building Supply's Builder of the Month for September.
Though his last name is synonymous with home building in Sheboygan County, Mike is doing things a little differently than big companies like Werner Homes do them.
"I don't have a fancy office or a big staff," Mike said. "I'm a one-man operation."
The low overhead translates to more flexibility for Mike's customers.
"I'm a custom builder of single-family homes," Mike said. "In the houses I build, what most people would consider upcharges I make standard. I try to have a more custom feel. I don't have pre-priced plans. I have plans I can show people, but they're not pre-priced."
What does that mean? It means that no matter what kind of home a client wants – large or small, intricate custom details or standard fixtures – Mike can make it happen.
After getting a business degree, Mike joined Werner Homes in sales department and worked alongside his brother, Bob, for 15 years. When the housing market stalled in 2010, Mike put his knowhow to work buying and flipping houses in Sheboygan County. It was a successful venture for him, but had his eye on something else.
"There was always that itch – I just wanted to get into brand new again," he said. "I missed it. In 2013 when I realized the economy was definitely coming back, it was time to put up a spec house."
The first five houses built by American Dream Builders were spec houses, and three of them sold before they were even completed.
Though Mike is not a carpenter, he knows what people wants and he knows how to design a home that will suit a family's needs. He hires local subcontractors and works with them to construct exactly the home his clients want.
"I give you more one-on-one attention than almost any other builder does because in most cases I only have one or two houses going at one time," Mike said. "I only do four or five houses a year. I'm at the jobsite every single day, overseeing what's happening and pitching in as much as I can."
Mike started working with United Building Supply back when he was at Werner Homes and never saw a reason to change. He gets all the siding for his projects from UBS and is looking at adding Marvin Integrity windows. In addition, he turns to Nyhof Custom Gutter & Aluminum for custom gutters on his homes.
"They're a small local business, kind of like myself," Mike said. "That's kind of important to me. I'm loyal. I don't bounce around."
UBS also gives Mike the customer service he wants, from working with Jack Ebbers on ordering to the delivery of supplies and pickup of leftover materials.
"I'm very satisfied," he said. "They have good customer service and very competitive pricing."
American Dream Builders is wrapping up participation in its third Sheboygan County Home Builders Association Parade of Homes this weekend, and Mike said that event has been a great way to spread the word about his young business.
"I need to get more people to know who I am, see my work," he said. "I can build anything from a small home to a top-of-the-line-luxury home."