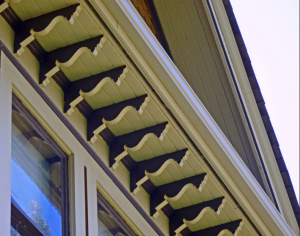 The Many Functions of Soffit
There are many ways to add a splash of color and a note of character to a home. From the exterior paint job, to the windows, all the way down to the door handles and the sinks – each option affords you the opportunity to change the overall feel of the home. The soffit of a house is no different. Unlike the kind of sink handle you choose, however, soffit offers more than a welcome aesthetic element. Soffit has a practical purpose as well, keeping your roof and rafters free of moisture and protected from the elements. Soffit can blend in and complement the color of a home or stand in stark contrast and provide an interesting design element. No matter how your client chooses to use their soffit, when take advantage of the special building materials at United Building Supply Inc., you can rest assured that your customers are always being given the best of the best in exterior remodeling products.
A Variety of Applications
One of the beauties of soffit is in its versatility – it can be used under porches, under arches or columns, and even under a flight of stairs. Essentially anything that has a visible ceiling can be equipped with soffit, giving you a numerous options for this useful building material. Soffit is primarily used for roof overhang, where it covers up exposed rafter beams. In this way you can protect against mold buildup and avoid the hassle of replacing rotting beams. Plus, soffit helps your building breathe by providing regular air circulation to the attic!
Quality Building Materials in Oostburg, WI
Whether you have been using soffit to accent homes for years or you just recently got into the Soffit game, we at United Building Supply Inc. can help you get the best materials at a fantastic price. Browse through our website and learn about all the great products we have for builders and contractors!