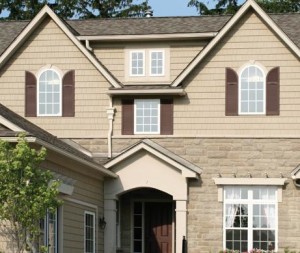 Imbue Character into Your Home
One of the most present elements of any home are the materials that make up the exterior of that home. The siding, in particular, is a large component of the exterior, and can add to the overall beauty of the home. In that sense, poorly made siding can take away from the home, and similarly siding that doesn't mesh well with the other building materials can be detrimental on an aesthetic level. For this reason, choosing quality siding is always the best option, be it for a home yet to be built or to renovate a home already in existence.
The siding of a home is almost an accent, and can be seen as an afterthought to those not in this industry. But contrary to that misconception, siding goes a long way to the overall feeling of a home. From shakes to shingles, stone & brick to shapes, siding is a fun design element that many first-time homeowners will regrettably overlook. If you select the right siding option for your home, you can successfully imbue it with just the right character, encapsulating your personal character or blending in with the other homes in your neighborhood.
Mid-America Components Siding
At United Building Supply Inc., we are proud to carry a healthy handful of great siding companies. Each of these companies has made a great impression on us over the years, and we are happy to offer each of them to our customers. Mid-America Components Siding is one great example of the many wonderful siding companies we work closely with. Their products are designed for efficient, contractor-friendly installation. Flush with flexibility, Mid-America Siding Components can mount directly onto any new or existing cladding, from vinyl and fiber cement siding to stucco and stone veneer.
In addition to great siding, we also carry some fantastic door, window, decking, and insulation products! Visit our site today to learn more or simply give us a call at 920-564-3888. We look forward to hearing from you!