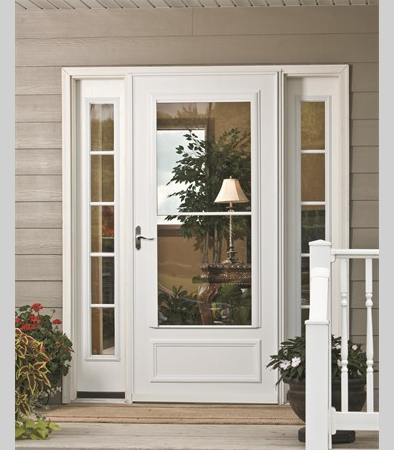 Ventilated Doors
In the heat of summer, the term ventilation is certainly a refreshing one. A well ventilated home is not only a comfortable temperature, but contains a good air flow too. Traditionally, this is accomplished with windows and air conditioning, but the folks at Larson think a little differently. They thought of families that wish to increase the ventilation capability with their storm doors. The doors come equipped a built-in screen that invites the breeze inside. The doors are versatile, and can provide durable protection while serving as a ventilator at the same time.
The doors are especially useful as the summer months turn to autumn, and the cooler temperatures bring a refreshing change to the atmosphere. Why not take advantage of the crisp fall breezes that delight the air? With the ventilated doors from Larson, you can utilize the naturally occurring air and cool wind to keep your home fresh.
The Larson Difference
As the largest manufacturer of storm doors and storm windows in the United States, Larson didn't become successful overnight. They are currently in the midst of celebrating their 60th year in business, a remarkable achievement for a company in any industry, especially in housing. Their doors are particularly effective in keeping homes safe from dirt, pollution, and other contaminates – while also allowing the good in, like a cool breeze.
Quality Building Materials in Wisconsin
At the end of the day, the quality of your home is based on the quality of materials that it is composed of. At United Building Supply, Inc., we specialize in taking homes to the next level of superiority. We utilize the best materials available to ensure your home looks great, lasts long, and operates efficiently. To learn more about how we can transform your home, visit us online today!