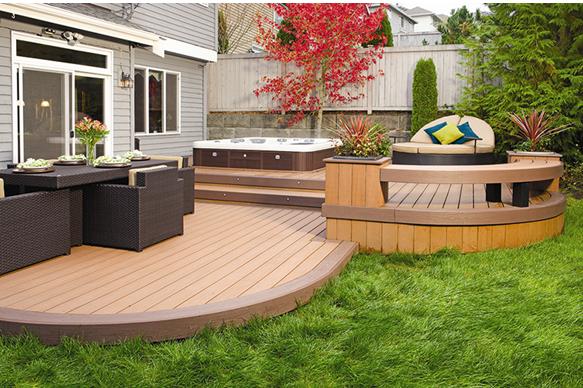 Warm & Vibrant Tones
Much like the rest of the world, the housing industry has been flooded with a slew of useful technologies.Homes today are rife with breakthroughs in innovation, and homeowners can reap the benefits. No part of the home has progressed quite like the deck. Decks have come a long way from their wooden origins. Following the introduction of composite decks, the decks from AZEK are engineered with a cellular pvc formulation. Their Arbor collection features decking that resembles the warm, vibrant tones associated with exotic wood.
A Cut Above
In many ways, the deck boards from AZEK are on a different level in terms of quality craftsmanship. One might say they have even redefined what decking means. Their resistance ability alone is indicative of this – even spilled wine, fruit punch, and hamburger grease are no match for AZEK Deck's stain resistance. They are also scratch resistant, so you never have to worry about you or guests scraping patio furniture. Plus, the Limited Lifetime Warranty Deck components are warranted to be free from defects in material and workmanship that result in blistering, peeling, flaking, cracking, splitting, cupping, rotting, or structural defects from termites or fungal decay. The deck boards come in 5 delightful colors: Silver Oak, Morado, Redland Rose, Acacia, and Hazelwood.
Quality Decking
We at United Building Supply Inc. pride ourselves on providing the best materials for our customers. Expand your home, and enjoy the comfort and solace a deck provides. An outdoor deck provides you with a comfortable setting to welcome guests and enjoy the long days of summer. If you are looking to create an outdoor space that will last for years to come, look no further than the quality decking offered by AZEK. You can find this and many other superior products at United Building Supply: visit us online today to see more!