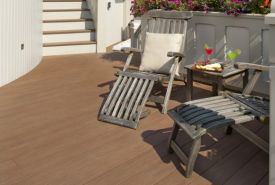 The Beauty of a Deck
While the winter temperatures have not yet left us here in Wisconsin, the fact remains that the first day of spring is a mere three weeks away! Like our neighbors on the east coast, you are probably ready to put the winter season behind you. What better way to do it than add a deck! A deck extends your home, provides you with an outdoor room of sorts, and increases the value of your home. One might say that having one means the deck is stacked in your favor!
Add Decking to your Home
Now is a great time to consider adding a deck to your home too – you have ample time between now and summer to determine the deck you want, and get it properly installed. Perhaps you wish to stray away from the pains of traditional wood decks and instead try a Genovations Deck that boasts little upkeep and great quality. Maybe you desire a deck that wraps around the side of your house, or that complements your exterior home color perfectly. When it comes to entertaining guests, and giving yourself a chance to enjoy the outdoors, you'll want nothing but the best.
Multiple Uses of Decking
One of the best aspects of a deck is its versatility. You get out of your deck what you want, whether that be grilling, reading a good book, entertaining guests, or simply sipping your coffee as you read the morning paper. The deck is the epitome of the warm seasons, it symbolizes the time you get to enjoy the warm beams of the sun shining down. So get started on enjoying spring, and make this summer a great one with a new deck. We at United Building Supply Inc. are happy to offer both AZEK Decking and Genovations for all of your innovational decking needs.